Welcome to Topaz Go School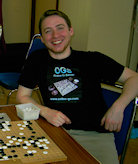 Hi, my name's Graham Lamburn (used to be Graham Philips) and I run the Topaz Go School. I'm a UK based go player, approximately shodan (1 dan) EGF and currently playing around 2 dan on KGS. If you are KGS 4 kyu or weaker and struggling to break through to the next rank, you are more than welcome to look at having introductory sessions and see if the idea of one to one tuition would suit your Go needs. For 8 GBP you can get 3 full lessons with discussions and analysis to see if you feel that my style of teaching can help your Go progress. If you're interested, please ask me for more info.
Please feel free to sign or comment in my guestbook, and my Twitter and FB pages are in the page footer.